A *SPOILER*-ful wishful crazy talk ramble on a mystery of the MCU follows. If you haven't seen GUARDIANS OF THE GALAXY, turn back for your own sanity, please!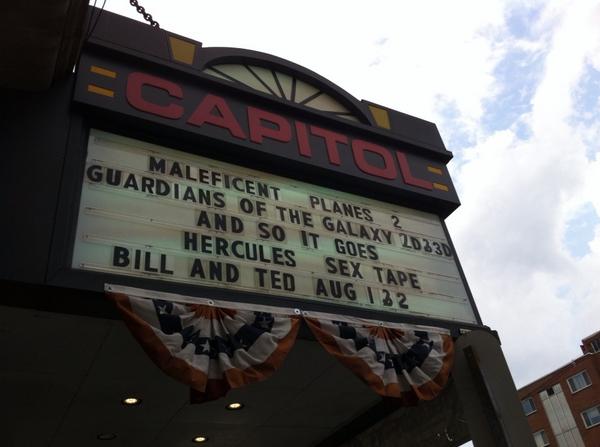 So! Who is Peter Quill's father? The Marvel Universe tells us that he's a Spartan (or Spartoi, of Spartax) named J'son, and Spartoi royalty. He crash lands on Earth and falls in love with Meredith Quill. When J'son is able to leave Earth he does, and leaves behind a pregnant Meredith, who gives birth to Peter. Years later, assassins seeking to end the royal bloodline track Meredith and Peter down. They kill Meredith and destroy their home. Young Peter manages to kill them and survive. He lives to be an adult before leaving Earth and eventually become Star-Lord.
However, given what we learn in GOTG, I get the feeling that he's going to get a different genealogy in the MCU. Some things that don't line up…
Peter Quill begins his life in space as a child, not as an adult.
The Spartoi and Spartax are not mentioned (at least, I didn't catch any references).
Peter's first extraterrestrial contact is with Yondu, a Centaurian, and his Ravagers. Yondu turns out to be an associate of Peter, Sr.
Or course, these inconsistencies w the continuity of the comics does not mean that they can't be smoothed into a Jason of Sparta heritage in the MCU, but…
What *do* we know about Peter, Sr. based on the movie?
He sent Yondu and the Ravagers to retrieve young Peter (the moment his mother passed away?).
Yondu seems familiar with him, and calls him "a dick" (I think that's what he called him, right?).
Nova Prime explains that Peter is half Earthican and half something-like-an-Elder-of-the-Universe. As far as I can recall, there's nothing "Ancient Ones"-y about the Spartoi. They're contemporaries of the Kree, Xandarians, and Shi-ar.
In the card she leaves with him, Mama Quill calls him her little "Star-Lord," a conspicuous pet name, even if you do know his dad was extraterrestrial royalty, donchathink?
Given all of that, I'm gonna say it's… Starhawk! Aka The One Who Knows, of the original, alternate future, Guardians of the Galaxy. What that might look like/mean in the MCU, of course, is unknown, and hopefully remains to be seen. As far as we know, there's no "earlier"/future incarnation of the GOTG in the MCU, but there's a definite affiliation of some sort between the MCU's Yondu and Peter's father, who he deems a dick (One Who Knows), and it explains (to me, at least) why Peter's mother would choose a name like "Star-Lord" as a pet name for him.

Maybe it's Starhawk from the 31st century, sent back in time to make sure that the Earth, Milky Way, and neighboring galaxies of the 21st century are prepared for a certain cosmic threat (Thanos / Infinity Stones). If he IS the One Who Knows, then he might have tweaked Earth and galactic events to align just the right forces to make a proper, winning stand vs. Thanos at a critical point in time. Maybe he helped form the Ravagers? Or even the Nova Corps? Maybe while manipulating some events or discoveries on Earth in the 70s, he found himself stranded for a time, fell in love with an Earth woman, and had a son with her. Until he could find a way to contact the Ravagers for a rescue?

Or something.

I know it's a stretch, but I'd love for that GOTG connection to be there across a millennium, y'know? In the comics, Starhawk, or an alternate version of him, did go back in time—or sent a message thru time?—to alert Quill and the present-day GOTG to a Thanosian threat.

My next pick: Star-Lord! Yeah, in the Marvel Universe there was a Star-Lord who took over for Peter Quill years after Quill died or disappeared. He only had a short mini-series, and I'm not sure that his origin involved him being some sort of elder cosmic species, but he was a telepath, which I would think is unusual. This would be a weird and fun one to write into the MCU, tho. In the comic, he takes up Star-Lord's mantle, but in order to make him the MCU Peter Quill's father, we'd have to make him a time traveler, or the original (or at least, earlier) Star-Lord. Sadly, that "code name" does not inspire any awe or fear Out There.
This would perfectly explain why Mama Quill would call young Peter her Star-Lord.
If it's NOT Starhawk or Star-Lord (but who else could it be?)… It's gotta be some race that isn't very common any more (Nova Corps' genetic scan), and has spent time on Earth (access to Mama Quill)…

Inhuman? Perhaps. But I would think that the genetics would read as part Kree, and so be identifiable as such…

Asgardian? That fits the data, altho if the Xandarians could recognize it, there's no reason not to put a name to it, right? I'd think that Peter would exhibit more obviously superhuman abilities.
Titan? Hrm… We still don't know Thanos's origin in the MCU (I still *so* want my Red Skull theory to be correct! =). I think we hear him referred to as "the Mad Titan" in GOTG for the first time, tho. Could you imagine Peter's dad being Starfox? That's bananas, but it could be a lot of fun. Would help explain Peter's preternatural James T. Kirk level of success with the alien ladies, no?
Atlantean? That would be interesting. Maybe Atlanteans aren't native to Earth? Or at some point in the past, part of their population left Earth and once in space, disappeared? (I still would love for the blue guy in AGENTS OF SHIELD to be Atlantean =)
Wait, okay. Just work with me here… How about… Galadorian? WOW! That would be pretty awesome. I forget the timeline of the Spaceknight Order, but it was on the order of centuries, right? Man, if we could get a ROM story as a secret history of Earth story in the MCU—Woooo-ow! Like, Rom comes to Earth tracking Dire Wraiths to whatever town/city Mama Quill lives in, is misunderstood at first, maybe fights then teams up with a 70s Marvel hero or two, reveals and defeats the Wraiths, somehow regains his humanity (SHIELD? Reed Richards? Dr. Strange?). falls in love with and settles down with Mama Quill, and sires Peter with her. He has to leave Earth, tho, when he learns that the Dire Wraiths (or some other threat) are at large again offworld. I would be very very very happy with that. =)
Keep on keepin on~
P.S. If you can stand it, even more GOTG rambling
here (some reflections
)
! And more on the question of Mama Quill's star-babydaddy
here (What does the 'Fox say?)
and
here ('Hawk vs. 'Fox)
! =)